eDonalsonville and high-speed internet service have arrived in Donalsonville!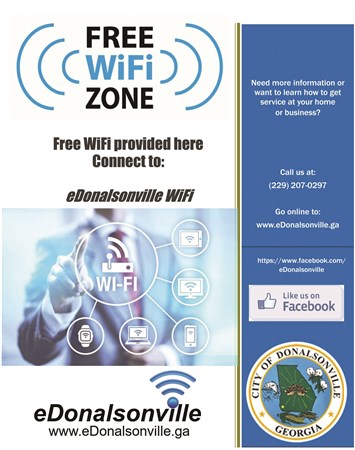 eDonalsonville, a Wireless Internet Service Provider (WISP) centered in Donalsonville, is back online, and beginning in August of this year, will provide eLTE and other internet-based services to residents and businesses in Donalsonville and the surrounding areas. And, as an added benefit, free wifi hotspots will be turned on this week at the Donalsonville Lions Hall, the Front Porch Marketplace, City Hall and the Donalsonville Airport.
Donalsonville Communications Director Jeff Hatcher commented, "As a local provider, we feel a responsibility to provide the best service available to residents and businesses in our communities. Promises of service are great but we feel it is important to deliver on that promise. Contact us today for the best, unlimited Internet service with excellent service after the sale! We can add the service to your monthly utility bill to make payment more convenient."
After months of preparation, the quality and capacity of the system will allow the city to provide extremely high-quality Internet at an affordable price, as well as providing educational and social impact programming.
Using eLTE equipment, eDonalsonville will offer broadband Internet service to residents within a five to seven-mile radius of each of two towers located within the city limits of Donalsonville.
This service will be offered to area residents as an alternative Internet provider to meet their need for faster, more reliable Internet service at an affordable price.
To get on the list for service, go to www.edonalsonville.ga and choose Plans and Service from the top of the page. There you can choose to fill out a contact form for more information.
If you would like more information about this topic, call the city's Communications Director Jeffrey Hatcher at (229) 207-0297, or email [email protected].
Initially, the eDonalsonville system was projected to be fully operational by June or July of 2017; however several items of concern led the city to terminate its agreement with Sozo Solutions, the firm that had been involved in the design and implementation of the system from its inception.
As of June 2017 the core system and equipment on the water towers were completely installed and operational; however, because of complications in leasing the spectrum in which the system is designed to operate, the City Council decided to cease the testing and operation of the eDonalsonville system until an alternative plan could be developed.
The decision to bring the system back online, and as of August 2018, available for purchase by area residents, was facilitated with an agreement with Sprint to lease the spectrum needed to make the broadcast service possible.